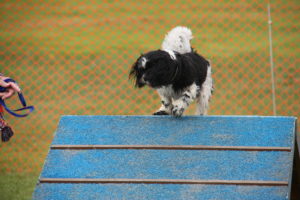 So what is agility?
Agility is a fun sport for you and your dog where you direct your dog through an obstacle course that can consist of jumps, see-saws, narrow dogwalks, weaving poles and tunnels amongst others. It is quite the spectator sport too! Training with your dog for agility courses can instil confidence in your dog, lets your dog burn off steam in a fun way and strengthens the bond you have with your dog. As long as you have a physically fit dog it doesn't matter how old you are. We have seen children through to those in their 80s and even 90s enjoy an agility course. Handler disability need not be an obstacle to enjoying this dog sport either.
instil confidence in your dog, let your dog burn off steam, and strengthen your bond
In competition, you may not use a leash, food, or toys and cannot touch either the dog or the obstacles. Instead, you rely on your voice, movement and body signals with the aim of completing all the obstacles without fault in the fastest time possible. Although we don't expect you to enter competitions it is best to train as if one day you will so your dog doesn't develop habits that are not desirable in a competition ring – you never know when you will be bitten by the bug!
Many obstacles change according to your dog's size (height at the shoulder), for example, the smaller the size the lower the jumps and the shorter the long jumps are. In competitions, courses are also formulated according to the dog's ability. So the better your dog is, the more difficult the course you can enter. You do need to qualify for each level before you can enter it – it is like climbing up the ranks.
How old must my dog be to train in agility?
Younger dogs cannot be trained on elevated equipment or jumping obstacles for safety reasons. However, there is still much that can be taught to prepare them using control exercises right from an early puppy. Competitions may not be entered until the dog is 18 months so most specific equipment training can be left until your dog is 12 months at least (which is also safer in the long run for the physical well being of your dog).
When do you hold training sessions?
We currently train on Tuesday evenings at the Warkworth A&P Showgrounds. If too wet we have some inside space to work on some foundation and fitness work so someone is there every week – if an exception we will post on facebook. So come along and check out the beginner dogs from 6pm until 7pm on a Tuesday.
For a taste of what is possible check out some videos – the one below shows the winning run of a Border Collie winning a Senior class. If only all our dogs could be this good! Note: there is a very high percentage of Border Collies in agility worldwide, especially at top level competition. The video at the bottom is the Championship FInal at Crufts 2018 which shows a variety of dogs.