A run down of what Rally-O is:
Rally-O is a rally version of the dog sport of Dog Obedience and is shortened version of "Rally Obedience". You will hear it referred to as just "Rally" as well.
In Rally-O, instead of waiting for a judge to tell you what you and your dog are to do, you take your dog around a series of 10 to 20 numbered "stations", each of which is a sign that tells you what exercise the two of you are to perform.  Also unlike traditional obedience, you are allowed to encourage your dog during the course with your voice, hands or body language – as long as you don't touch your dog and your dog does the majority of the course on a loose leash. Jerking the lead, or rough handling is not accepted. In competitions, you are not allowed any food or training aids on the course although this is obviously fine during training!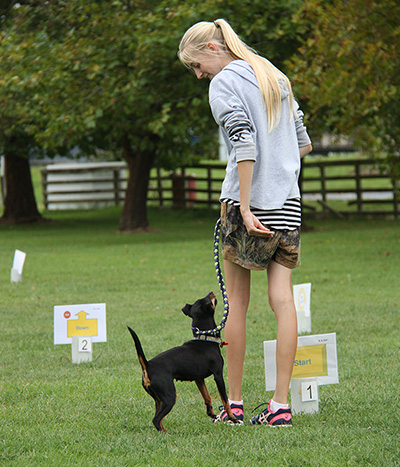 There are a lot of different Rally-O signs and they range from the simple to very difficult to accommodate all sorts of abilities. Competitions are regularly run by dog clubs around the country (and the world!) and if you belong to an NZKC  registered club you can enter them. Because, currently, Warkworth & Districts Dog Training Club does Rally-O courses just for fun, you don't usually see any of the more difficult exercises, though, of course, anyone can ask for these to be put out if they want!
Novice exercises include:
Change of pace (fast, slow, normal)
Right and left turns
About turns (turn back the way you came turning to your right) and about U-turns (turn back the way you came turning to your left)
3/4 right and left turns (270° turns)
360° right and left turns (you end up continuing in the same direction you were going before the exercise)
Spirals around cones
Weaves through cones
Halt with your dog in a sit or down
Walking around your dog in a sit or down
Call front (getting your dog to face and sit in front of you
Then there are Advanced and Excellent courses which can include obstacles such as jumps as well as a host of more difficult exercises.
Check out this video of the Welsh team at Crufts this year – it shows a whole range of dogs and a few of the exercises: